The Online Roots of Rock has a companion publication — Jive.
Jive is a 48-page book that, like the website, explores the roots of Rock 'n' Roll — except Jive makes a game of it!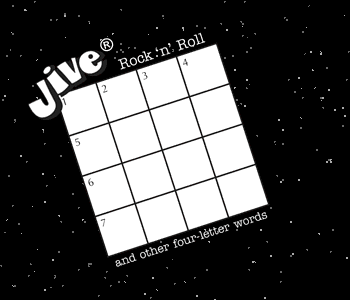 If you enjoy Rock 'n' Roll — and other four-letter words — you'll love Jive.
Jive is about Rock 'n' Roll. And it's about the music that led to it. It explains how Rock 'n' Roll happened. And why it had to happen.
Through twenty mini-crossword games (front section of book) with detailed explanations (back section of book), Jive traces the development of popular music in America back to its three basic roots:
| | |
| --- | --- |
| | white roots music |
| | black roots music |
| | mainstream "popular" music of middle America (that was imposed, to a large extent, from the top down by the commercial songwriters and publishers of Tin Pan Alley) |
It even goes beyond these roots to Europe, Asia, Africa, and to wherever the music calls.
Ragtime, Dixieland, Boogie Woogie, Swing, Honky Tonk, Blues, Country and Western, Soul, Rhythm and Blues, Gospel, Bebop, Western Swing, Jump Blues and more are explored — all from a Rock 'n' Roll perspective.
In this and future volumes, Jive delves into the explicit and implicit subcultural jargon that has become an integral part of our music heritage. We'll learn what rock and roll really mean. And explore the origins of such terms as funk, jazz, rags, jive, mojo, sham, gigs, juke, and many, many more. Hence Jive's subtitle — Rock 'n' Roll and other four-letter words.
Jive shows, in a fun way, that the roots of Rock 'n' Roll are as fascinating as they are far-reaching. Like no other music, Rock 'n' Roll belongs to the world.

Jive is a registered trademark of Gary Wilcox Studios Incorporated
Jive: Rock 'n' Roll and other Four-Letter Words by Gary Wilcox
Softcover
3.875" x 8.75"
48 pages
English
ISBN-10 1926991192
ISBN-13 978-1926991191
$4.95 Cdn/Us

Embossed purple foil on red cover, reminiscent of the satin jackets of the 1950s.
.

Click here to download a free 12-page Jive sampler.(645 KB pdf)
Click here to purchase a copy of Jive direct from distributor