Singing Cowboys
For decades, the professional songwriters of New York had used the Broadway stage as the vehicle for promoting their popular songs. But with the onset of the Depression much began to change.
The Great Depression began in 1929, just about the time Hollywood films were beginning to talk.
After 1929, once movies could talk (and sing), many Tin Pan Alleymen shifted from Broadway stage musicals to Hollywood film musicals as the outlet for their songs.
As a result, film cowboys started singing.1
There were three types of singing cowboys:
| | |
| --- | --- |
| | cowboys who sang new songs about the West |
| | cowboys who sang old songs from the West |
| | cowboys who sang any type of song |
Most film cowboys sang new songs about the West, written by professional songwritters. Some are so well done that they seem like old Western standards.2
KEN MAYNARD.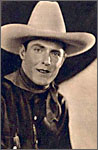 Ken Maynard
The first singing cowboy was Ken Maynard in the 1929 film, The Wagon Master. He sang two songs, The Lone Star Trail and The Cowboy's Lament. The Lone Star Trail is almost unique in Hollywood westerns in that it's an authentic Western trail song. By Maynard's next film, Sons of the Saddle, the professional songwriters were on the scene.
In his 1930 Sons of the Saddle he sang two songs, Down the Home Trail With You and Trail Herd Song. Both songs were co-written by professional songwriters Bernie Grossman and Lou Handman. Grossman had prevously written for the Broadway stage.3
Maynard's 1934 film In Old Santa Fe introduced newcomer Gene Autry, who sang two songs. This marked the beginning of the end for Maynard.
BOB STEELE.
| | | |
| --- | --- | --- |
| | | |
| Bob Steele | | Near Rainbow's End |
The next cowboy to sing was Bob Steele in the 1930 Tiffany film, Near the Rainbow's End. This appears to be the only western in which Steele sang, so he isn't considered one of the "singing cowboys."
JOHN WAYNE.
John Wayne

Riders of
Destiny
The next singing cowboy was twenty-six-year-old John Wayne in Monogram Pictures' 1933 film, Riders of Destiny. Wayne played the role of Singin' Sandy Saunders, but his voice was dubbed because he couldn't sing. Wayne dubbed his way through seven more films with Monogram, but this led to understandable complications, especially with personal appearances. Consequently he didn't renew his contract in 1935, but did sign with Monogram's successor, Republic Pictures, as a non-singing cowboy.
Republic, still wanting a singing cowboy, hired Gene Autry because he could both sing and ride a horse.
GENE AUTRY.
In Old Santa Fe
1934

The Phantom
Empire,
1935

Tumbling
Tumbleweeds
1935
Gene Autry was introduced to moviegoers in Ken Maynard's 1934 film In Old Santa Fe in which Autry sang two songs 4 as was billed as "the world's greatest cowboy singer." But before giving Autry a starring role, Republic first groomed him in the 1935 12-part, science-fiction serial, The Phantom Empire. Interestingly, in this science-fiction cult film, Autry was a singing cowboy!
Gene Autry's first starring role as a singing cowboy in a Hollywood western was in the 1935 film Tumbling Tumbleweeds. He was billed as "the screen's new singing cowboy star."
BOB BAKER.
Bob Baker

The Singing
Outlaw

Folio of Fleming
Allan songs
Universal Pictures was looking for a singing cowboy and signed Bob Baker in 1937. He was chosen over several candidates, including Dick Weston (soon to be called Roy Rogers).
Baker wasn't a great singer, but he prospered with the tunes of professional songwriter Fleming Allan. In fact, Baker published a folio of Allan's western songs.
Baker's 1938, The Singing Outlaw, was his ninth film with Universal since signing in 1937. Such was the output of Hollywood's B-Westerns.5
ROY ROGERS.
Roy Rogers

Under Western
Stars
After losing out to Bob Baker at Universal, Dick Weston's opportunity came knocking when Gene Autry left Republic in 1937 over a contract dispute. Republic quickly signed Weston — and changed his name to Roy Rogers.
Rogers had a proven track record as he organized and sang with the Sons of the Pioneers, as Leonard Slye.
Rogers first film with Republic was Under Western Stars, in 1937.
OTHER SINGING COWBOYS.
Other singing cowboys include Tex Ritter, Jimmy Wakely, Johnny Bond, Rex Allen, Ken Curtis, Sunset Carson, Eddie Dean, Dick Foran, Kirby Grant, Monte Hale, Jorge Negrete, Bob Steele, Dick Thomas, Smith Ballew, Ray Whitley, Bill Boyd, Tom Tyler and probably scores of others.
Many of these singing cowboys had their own comic books.
The era of the singing cowboys, starting in the mid-1930s, saw many former silent-film, non-singing cowboys riding into the sunset, including Tom Mix, Hoot Gibson, Buck Jones and Tim McCoy.6
The singing cowboys of the 1930 and 1940 Hollywood westerns made cowboy songs palatable to middle America. At least, their version of cowboy songs. Although some of their ballads, like those of Tex Ritter, were quite authentic, most were the creations of commercial songwriters. Professionally-written songs sung by smooth voices created a huge demand for "cowboy songs."
In 1949, Billboard magazine responded to this demand by renaming its Folk Record Section (which primarily listed Hillbilly recordings) to Country & Western — and, thanks to the singing cowboys, a new music genre was born.
---

1

In point of fact, there were actually singing cowboys in silent films but, of course, nobody heard them, and they are not on record.
2
Some of the first songs were old traditional songs, as they were in the public domain so the film studios weren't required to pay royalties. But when the professional songwriters entered into the picture, new songs were written so royalties could be collected.

3

Co-writer Lou Handman, inducted into the Songwriters Hall of Fame in 1975, was the composer of Are You Lonely Tonight recorded by Elvis Presley in 1960 and was inducted into the Grammy Hall of Fame in 2007

4

Maynard also sang two songs but they were dubbed (Bob Nolan) because, compared to Autry's smooth singing, Maynard's singing was high-pitched and nasal.

5

Some low-budget films were made in five or six days.
6
The phenomenon of the singing cowboy was so pervasive that even non-singing cowboys like Tom Mix and Buck Jones issued songbooks.


Copyright © 2013 Gary Wilcox Studios Incorporated.
Please credit :
The Online Roots of Rock