Ken Olin Maynard was born on July 21, 1895 in the Swiss community of Vevay, Indiana. In 1895.
In 1898 his family moved to Columbus, Indiana, where Maynard attended school and graduated from the 7th grade in 1909.
Columbus was a big enough town to attract travelling rodeos and circuses and, from 1910 on, young Maynard's focus was on riding horses.
PROFESSIONAL STUNT RIDER.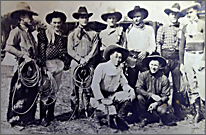 Ringling Brothers Stunt Riders
(Ken Maynard at far right)
He became an expert rider and, through the 1910s, worked as a stunt rider for Buffalo Bill Cody's "Wild West Show" (1913), the Ringling Brothers Circus (1913), Kit Carson's wild west show (1914), Pawnee Bill's show (1917) and again for the Ringling Brothers from 1919–1921.
In 1921, after the Ringling Show performed in Los Angeles, Maynard entertained the possibilities of a career in the fledgling Hollywood movie industry. He had befriended western star, Tom Mix, who made some introductions.
Maynard's riding acrobatics soon became a huge asset in the visual medium of the silent film.
Maynard's first film, in 1925, was Janice Meredith.
This led to an 8-film contract with First National and two films in 1926, Senior Faredevil and The Unknown Cavalier.
By 1927, Maynard was one of Hollywood's top-five-grossing cowboys, along with Tom Mix, Hoot Gibson, Buck Jones and Fred Thomson.
In 1927, Maynard was billed, "King of the Western Stars."
HOLLYWOOD'S FIRST SINGING COWBOY
.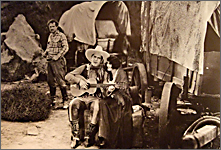 The Wagon Master
1929
With the advent of sound, Maynard, with his high-pitched, nasal voice, sang two songs in the 1929 film, The Wagon Master, to become Hollywood's first singing cowboy.1
In this film he sang two authenic cowboy songs, The Lone Star Trail and The Cowboy's Lament.
Maynard's rendition of The Lone Star Trail is lauded for its authenticity:
". . . this passionate description of life [is]
one of the very few recordings of authentic 'cowboy' singing." 2
This would be as close to an authentic cowboy song as Hollywood movie goers would experience.3
By the time of his second movie, Sons of the Saddle in 1930, professional Tin Pan Alley songwriters had set up shop in Hollywood and Maynard, and all the "singing cowboys" that followed, sang new songs written by professional songwriters.
Maynard soon became more involved in his films by establishing his own production company and writing some original songs
His 1933 film, Strawberry Roan, is noteworthy in that the songs were incorporated into the story line.
The following year, 1934, Maynard starred in Mascot Pictures' Mystery Mountain — a 12-part serial aimed at Saturday matinee youngsters.4
His 1934 film In Old Santa Fe marked the beginning of the end for Maynard. This film introduced the smooth singing voice of Gene Autry.5 Suddenly Maynard sounded archaic.6
But it was a heck of a ride. Ken Maynard was Hollywood's highest-grossing western star until the rise of Gene Autry and Roy Rogers in the late 1930s.
Maynard's meteoric rise was equalled only to his tragic fall from grace due to alcoholism. He became difficult to work with and alienated himself from the movie business. He squandered his fortune and fell on hard times. In his final years he lived in a trailer until he died in 1973 of malnutrition and stomach cancer.
---

1

Technically speaking, there were singing cowboys in silent films but, of course, movie goers couldn't hear them.

.2.

Smith, Harry. Editor, Anthology of American Folk Music.(Folkways: 1952)

.3.

In.1930, Maynard recorded eight authentic cowboy songs at Columbia's recording facilities in Hollywood. These eight songs, released in a CD package, The Lone Star Trail, (that includes an 80-page booklet) offer a rare insight into authentic songs of the range, as does Carl T Sprague's 24-song CD package, Cowtrails, Longhorns & Tight Saddles (that includes a 40-page booklet) of songs recorded 1925–1929.

.4.

Mascot Pictures.planned another 12-part serial for Maynard in 1935, The Phantom Empire, but the starring role was given to Gene Autry after outperforming Maynard in Maynard's 1934 film, In Old Santa Fe.

.5.

Gene Autry.was to Cowboy songs what Bing Crosby was to Pop songs. Their smooth, relaxing voices were reassuring during the Depression years of the 1930s.

.6.

So much so that his singing was dubbed in this film..

Copyright © 2013 Gary Wilcox Studios Incorporated.
Please credit :
The Online Roots of Rock