Roy Rogers was born Leonard Franklin Slye on November 5, 1911 on a farm in Cincinnati, Ohio. He was born into a musical family and as a youth played the mandolin and called square dances.
In 1930, at the onset of the Depression, the Slye family moved to California where 19-year-old Leonard held a variety of jobs before singing on radio in an amateur talent show.
His radio performance led to his involvement in a succession of western singing groups culminating, in 1933, with the formation of The Sons of the Pioneers.
SONS OF THE PIONEERS.
Roy Rogers with
the Sons of the Pioneers
The Sons worked on their harmonies and, in 1934, had their own radio show singing original songs.
They signed with Decca Records later that same year and attracted much attention with their smooth harmonies and infectious melodies in original tunes such as Tumbling Tumbleweeds and Cool Water.
Hollywood called, and the Sons of the Pioneers signed with Republic Pictures and performed in a Gene Autry movie, The Old Corral (1937).
The following year Leonard Slye (Roy Rogers), billed as Dick Weston, was given a supporting role in Gene Autry's The Old Barn Dance (1938).
The Old
Barn Dance
1938

Leonard Slye (Roy Rogers)
billed as Dick Weston
Later that same year, Autry had a contract dispute with Republic and was quickly replaced by Dick Weston, now called Roy Rogers.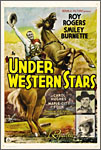 Under Western Stars
1938
Roy Rogers first starring role as a singing cowboy was in the 1938 film, Under Western Stars.
Autry returned to the fold, and through the 1940s and 1950s rivalled Rogers as America's favorite singing cowboy.
As the era of the singing cowboy began to wane in the early 1950s, Rogers moved into television with The Roy Rogers Show, which broadcast for six seasons from 1951–1957. 1
---

1

The show's theme song, Happy Trails, was written by Rogers' wife Dale Evans.

Copyright © 2013 Gary Wilcox Studios Incorporated.
Please credit :
The Online Roots of Rock